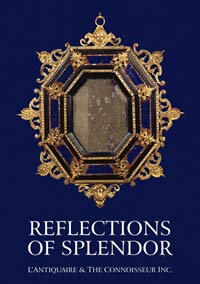 Exhibition Catalog
The Origins of Mirrors
and their use in the Ancient World
Part 5
By Helen Costantino Fioratti
Although prohibited from producing glass and mirrors elsewhere, and with the danger of being severely punished, even assassinated, glassmakers from Murano emigrated to the Universitá d'Altare (not far from Genoa) and from there into the Diaspora with their Altarese companions. Here is evidence that despite the severe exclusionary restrictions that had been inflicted upon Jewish artisans for more than a millennium, the ancient bond between the Jews and the art of glassmaking had endured.

At that time, trading in lead compounds as well as manufactured glass was still being carried on in Fustat (Cairo). Documents of the twelfth and thirteenth centuries recovered from the archives of the ancient synagogue of Fustat record just such activities involving the Jewish community. So important was lead oxide for glass that the dealing in it, and its processing, formed a distinct profession in the Near East. It was from the East that the Venetians became familiar with the use of lead oxide for producing softer, less brittle glass.

Genoa did not obtain glassmakers from the Near East as had the Norman and Piedmontese crusaders. Instead they turned to Jewish artisans to introduce the vitric industry to their dominions. At the end of the thirteenth century, before Genoa came under Spanish domination, an early chronicler recorded that "the first glassmakers in Genoa came from Florence." In fact, the earliest identifiable Genovese glassmaker, Zino da Firenze, is registered on a document of 1281. From that time on, until the expulsion of Jews from Genoa, the influx from Florence (and later from Spain) was substantial.

Guido Malandra, in his history of the Universita d'Altare, lists a large number of these immigrants. Two of the glassmakers are specifically listed as former Jews who had converted to Christianity.