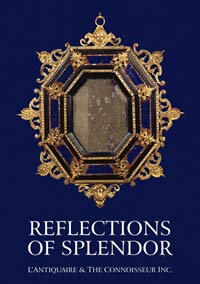 Exhibition Catalog
Mirrors During the Reinassance Period
Part 11
By Helen Costantino Fioratti
Well-known glassmakers, such as Giacomo da Costa and his family, from Spain, brought the knowledge of oxide of lead use for glass to England. Members of de Costa's family had left Antwerp for England in the 1660's. Another Sephardic family from Catalonia, The Dagniá family whose members had also moved to Parma and Nevers had left Altare after the 1391 and 1412 persecutions. They introduced lead or 'flint' glass to Scotland. Highly respected, the Duke of Mantua had given them a "patente di familiare" in 1619 that allowed them the privileges of members of the royal household.

Altare was under the rule of the Gonzaga of Mantua. The Gonzagas' territory extended to Provence, but the Altarese workers went much further, some going to the Netherlands. Another worked in Nimwegen, and another Altarese opened a factory in the late 17th Century in Lisbon.

With the revival of mirror work in Genoa by the seventeenth century, Genoa became a center for beautifully carved and gilded mirror frames which complemented their intricately carved consoles.

Listed in the aristocratic Brignole of Genoa's archives of 1606 a "large" mirror was mentioned garnished with silver. Some mirrors were specified as having been made by Germans. The aristocrats in Genoa also bought their furnishings from the international market as well as from other parts of Italy. The Brignole inventory of 1670 mentions two large and two small mirrors with ebony frames sent from Venice. Ebony was a favorite wood there as it was elsewhere in the 17th century. In an invoice of 1681, paid to an artisan named Ernesto Tedesco "un cornise di specchie in ebano" which was destined for the doors of a vitrine/cabinet. An invoice was proferred from a wood carver named Stecchone, recommended by the architect Juvarra, for a mirror at Palazzo Rosso. The invoice specified the wood as walnut and the decorations included cherubs, heads, leaves, little eagles, and lions, some of which were to hide the divisions or joints of the mirror under the carving. The mirror cost 1260 lire, more than an entire lot of seat furniture on the same invoice.

Seventeenth-century designers used mirrors to integrate interior architecture with furniture in ways not previously seen. Large mirrors reflecting everything set before them created vistas within a room. Success in maximizing light created the "fondi di sala" in Italy, where a wall would be covered with mirror to also create an illusion of more space. Famous mirror galleries were built in the Ducal Palace in Mantua, the Palazzo Reale in Genoa and the ballroom in the Palazzo Riccardi in Florence.