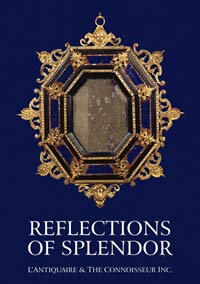 Exhibition Catalog
Mirrors During the Reinassance Period
Part 10
By Helen Costantino Fioratti
The Venetians conceded that the French were masters in making large mirror plates of 106" x 64"(269 x 163cm.) by 1700. Venetian mirrors were still seen in France, however, smuggled through the free port of Marseille and by other means. By 1697 the Venetians had recognized that the French were masters in making large plates and kept to their old blown glass techniques. Despite France's desire to be self-sufficient in mirror production, out-of-stock shops also bought from Murano. In the late seventeenth and throughout the eighteenth century, the mirror became such an important element in décor that Louis XIV himself often turned to Murano when he could not find enough mirrors available in France.

An art form, generally but incorrectly called Bagard de Nancy, arose due to continual wars during the reign of Louis XIV. The wars were such a drain on the exchequer that France was in constant need of currency. As a result sumptuary laws were enacted that forbade the silver, gold, and metal mirrors and articles for the dressing table (which were also given as gifts to celebrate marriage). Now equally prestigious and expensive substitutes were required. Bois de Saint Lucie was an extremely hard and difficult-to-carve wood available near Nancy in Eastern France (now extinct) that took the place of the metal objects, the mirrors, boxes, and candlesticks were esteemed at the end of the seventeenth and early eighteenth Century. Indeed, their intricacy recalled the decorations of the gold and silver models they replaced. Mirrors attracted the Grand Tour visitors. The English were "fascinated with visiting the French royal workshops." To quote Thomas Bentley:

Seeing mirrors manufactured at the famous factory in the Rue St. Antoine continued to attract a great many tourists, who were filled with admiration for what they saw. Another Englishman, called Pennant, noted: 'Went to the Manufacture de Glace, Rue St. Antoine: some hundreds of men employed. They make only looking glasses, some of which were three yards long and two foot four inches broad, valued at 3800 livres each; this is under the royal protection.' Another English traveler named Jervis was equally brief, but he, too, was clearly impressed with what he saw: 'Finish'd with the Manufacture of Glass which we saw in all the process of polishing and quick silvering. It appears to be the most flourishing of any of the Mechanick arts we have seen."

George Ravenscroft was the son of a ship owner who had imported Venetian glass to England and patented the formula for lead glass there. Attempts to lure Venetian glass makers to England had failed, but the English succeeded in hiring glass makers from Altare, still the principal rivals of the Venetians in Italy.