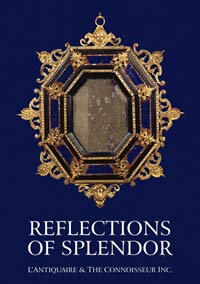 Exhibition Catalog
Mirrors During the Reinassance Period
Part 16
By Helen Costantino Fioratti
At this time, mirrors came in many forms: a standing table mirror with either a metal or wood frame was in great demand. Venetian lacquered toilette mirrors with enchanting chinoiserie subjects or floral motifs were often with easel backs and used on dressing tables, when the central part of the dressing table did not include an inset mirror. Mirrors were also inserted into the lids of all sorts of boxes. These boxes of metal, leather and, of course, lacquered wood generally held perfume bottles, toiletries, or personal treasures and could be fabric lined. They were popular as far away as Mexico.

A case containing all the necessities for dressing tables, or travel, contained a mirror along with trays, powder boxes, brushes and candlesticks. The popular lacquer colors, black, red, green or the pastel yellows and rose, light and dark blue, and white, were favored for these. Venetian easel table mirrors were both popular and practical. One type had a carefully balanced mirror to be inclined on upright support rods over bases which were fitted with drawers or drop fronts. At this time, mirror frames, entirely gilded or lacquered with gilt highlights, were followed in popularity by frames lacquered in several tones and those done in lacca povera. Chinoiserie motifs, such as pagodas, Chinese robed figures with or without umbrellas, flowers, animals and birds, were all subjects for such lacquered mirror frames. The cimasa, or crown, could otherwise contain landscapes within reserves inspired by such fine local painters as Francesco Zucarelli (1702-1788), Gaspare Diziani (1689-1767) and Giuseppe Zais (1709-1789).

Another Venetian specialty was incising for mirrors, these were mostly framed in gilt wood, which, when fitted with appropriate subjects, even decorated chapels. The technique was begun in Lübeck and was also a specialty of the Bohemian glass works. The incised or etched designs were performed most successfully on what was called "Bohemian crystal", which was the clearest glass available. Bohemian crystal was a different quality than the mirror baptized Vetro Cristallino in Italy. It was much thicker, and therefore more resistant, and easier to incise than the thinner Venetian glass. Mirror glass was generally only 3 to 4 mm. (up to 1/8") thick, in the eighteenth century, in contrast to the 8 to 9 mm. (5/8" to 5/16") deep mirrors of the nineteenth to the twenty-first centuries. An important indication when judging the age of the mirror glass.

The greatest experts in incising were the engravers from Holland and Flanders, whereas the Venetians were only equipped to create a more superficial incising. Glass manufacture also differed: the Venetians made glass with a base of calcium soda, whereas the Germans used a solution of potassium based on lead oxide. The Venetian experiments augmenting the quantity of calcium soda did not generally help, although the resultant glass was thicker and harder than other Venetian glass, and, therefore, easier to etch with accuracy. The etching tool of choice, for both the Northern and Venetian artisans, was a wheel-like instrument. It was handled with great facility by Giuseppe Briati who incidentally sold all manner of glasswares from his workshop.

The artisans Vincenzo dalle Vedova, or Vedoa, and his son Piero, however, took credit for having introduced this sort of incised decoration from Germany. So great became its prestige that, after 1770, the Venetian state officially recognized incised work as an art form by ranking it next to painting and sculpture and above glass and other mirror work. The technique was often used on outer borders of looking glasses with patterns of lace-work, gallant figures, mythology, heraldry, floral designs or religious motifs, which left the center clear for the actual reflection.