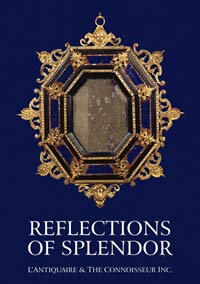 Exhibition Catalog
Mirrors in the Medieval Period
By Helen Costantino Fioratti
During the medieval period, mirrors began to be mentioned in literary sources with some regularity. Leo of Assisi recorded the life of Saint Francis (died 1226) in a book entitled The Mirror of Perfection. His explanation for this title is as follows: "Here endeth the mirror of perfection of a brother mirror. The Blessed Francis, wherein we may most sufficiently behold as in a glass the perfection of calling and profession."

In Roman de la Rose , the idle lady uses the mirror simply as a beauty aid, however mirrors in medieval times were also associated with moral education. In Latour Landry's book of advice to his daughters, a mirror that was misused focuses the beam of diabolical horrors. Bewitched by her own image into spending a quarter of the day ministering to her appearance, a lady exasperates those awaiting her in church, "What! Will this lady never be done combing herself! Staring at herself in the mirror? It proves however to be a mirror of evil omen. And as it pleased God to make an example of her, even as she stared into the mirror she perceived the enemy, who bared his behind, so ugly and horrible that the woman lost her reason, as if possessed by the devil."
If the mirror could be used to reveal imperfections of hair and dress, it also was considered to serve more effectively to bare moral imperfection and narcissistic excess. In many texts of the medieval period, however, it also appears as an instrument of edification, sometimes to guard against deception and illusion.

In Jean de Candés Dit du Miroir, a man insists on having a double mirror, to look at himself "inside and out." As he wrote, "a mirror must be present day and night, a mirror whose obverse is "obscure and diverse." To look into this mirror one could thus profit by the wicked deeds of others!
He wrote:
Dou Miroir par double maniere
Puestie tu veior oevre pleinere
[Gentle mirror in two ways
You can fully expose everything]
Most fifteenth century mirrors continued circular, as their origin was the convex section of now a larger blown-glass bubble. These mirrors were used not only to reflect an image, but also to direct light where needed. In Southern Germany, especially Bavaria and Nuremberg, there were also oval convex mirrors.

Mirrors were also used for divination in the later Middle Ages, but this practice was banned by the Church. In folklore mirrors were thought to effect hexes and black magic, since they were said to have an affinity with demons and spirits. At that time, the mirror gave an extremely distorted reflection, but it lost all its supernatural associations after the mid sixteenth century, when Johannes Kepler proved that the eye receives and focuses light on the retina.

Thanks to this discovery, the convex mirror lost its sense of mystery, and with it the power it had accrued as a Vanitas symbol.