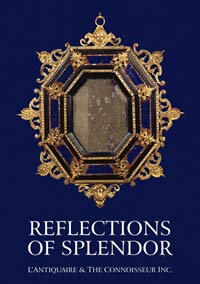 Exhibition Catalog
Mirrors During the Reinassance Period
Part 9
By Helen Costantino Fioratti
"Cabinets de glace" became popular in France after the seventeenth century glorifying clarity and light and heralded a polished and a brilliant world under the 'Sun King,' to quote an anonymous contemporary writer. The archbishop of Sens gave a ball in 1651 where "fifty of the richest and most beautiful Venetian mirrors served as delightful pictures displaying the faces, the experiences and poses, the smiles, the graces, the charms, the hands and arms of all the fine company that is entertained in this room." By juxtaposing several plates, small rooms were being decorated with mirror by the 1660s. The news about the newly fashionable mirrored walls traveled quickly from France and elsewhere. In 1687, the Swedish architect Nicodemus Tessin saw the Princess of Orange (about to become Queen of England) at the Dutch pleasure palace of Honselersdijk. He reported, "Its ceiling is of mirror glass". By 1700 she also had a glazed bedchamber where the mirrors alternated with twenty-six green damask panels. Another small mirrored and porcelain "closet" was at Schloss Lutzenberg (now Charlottenburg, Berlin).

The mirror frame became an important addition to Baroque interior décor, as mirrors doubled the illuminating power of candlelight. Mirrors added brilliance and enhanced the large scale decorations, while also unifying the decorative schemes. Their frames were composed of precious metals, reverse painted glass, tortoise shell , and of course, finely carved and gilded wood. Coral studded frames were made in Trapani(Sicily), hard stones with gilded metal, including bronze, in Rome and Florence. The French mirror project was again resumed at a different site. (There had been much breakage between the glass works and the silvering depot and there was great added expense in the transport). Before they moved to St. Gobain, the French glass makers were allowed to sell broken pieces of mirror to foreigners, but this was soon seen to be bad for business. The mirror processes were moved in 1691 to the more convenient workplace at Saint Gobain in Picardy. Finally, Colbert's bankrupt royal glass works evolved into a very important company, still very much in existence- The Saint Gobain.

The Crown of France had previously been a huge customer of Venice, but now ordered from the Saint Gobain works. Louis XIV bought 375,000 pounds of glass between 1667 and 1695; a gift of mirror to Siam's rulers brought about an order from them for four hundred mirrors from Saint Gobain.

Mirrors became so important and fashionable that they were even placed in parks. In some cases walls were covered in glass seemingly creating waterfalls, thus giving the illusion that there were infinite streams of water. Mirrors were even set into a headboard as in a design by Nicodemus Tessin of the 1670s, now at the National Museum, Stockholm, in the Tessin-Härleman collection.