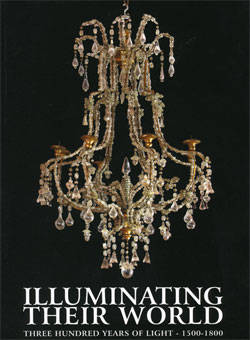 Exhibition Catalog
Chandeliers in the Seventeenth
and Eighteenth Centuries
Part 5
By Helen Costantino Fioratti
They ordered the crystal from St. Cloia and Cattaneo in Italy for the King, and from a Sig. La Roue. The crystal was seemingly imported from Milan, a city then famous for supplying and working rock crystal. Giuseppe Cattaneo of Milan is the artist of the same family (which included Francesco and, later, Giovanni Battista) who supplied rock crystal for King Louis XV (1710-1774).

In the eighteenth century, most of the chandeliers made in France were mounted on a lyre shaped support of gilt bronze. In 1748 Lazare Duvaux, an important "marchand mercier" delivered one of these for the price of 720 livres to a M. Hébert, two chandeliers with what he called "Bohemian crystal mounted as a lyre, more elaborately garnished than ordinarily." These were probably again by Monsieur Berrin, although once again not credited to him.

The highly prized rock crystal chandeliers with drops and segments imported from the Milanese specialists, also figured in the important auctions of the period. A chandelier formerly belonging to Madame de Pompadour was sold in 1766. It was six feet tall and three feet, six inches in diameter (183 x 106.5 cm.) and another made for the King's large salon at Versailles was described as being a twelve branch "lustre" with "twelve pyramids and leaves in crystal and silvered bronze, with a six inch ball (15 cm)." In one of the early showplaces of the nascent Rococo style, the "Salon de la Princesse" in the Hôtel Soubise in Paris, designed by Germain Boffrand (c. 1737-1740), with its rounded walls, a large chandelier of typical Louis XV design centered on an elaborate ceiling design was featured. With its light reflected on the mirrored walls, the effect must have resembled the magnificent chandelier of the Hôtel de Lorges, the earlier setting for the wedding ceremony of the Duc de Saint Simon.

The reinvention of crystal glass in France was facilitated by Bernard Perrot, another ex-Altare glass-maker, whose surname was really Perrotti. Perrot's uncle was Jean Castellan (né Castellani), who had also left Altare (to work in Líege in 1638), and with whom Perrot formed a partnership in the 1640's. Louis XIV acquired the duchy of Nevers in 1659. They obtained the king's privilege to produce glass for the entire Loire Valley for thirty years, three years later, they established a glass-house works in Orléans, which had been a steady center for glass production for some time. Perrot filed a patent "brevet" for a smokeless fuel for his furnaces, for which, aside from the monopoly for glass-making, - he obtained French citizenship. From Philippe, Duc d'Orléans, Perrot then received the noble title of Seigneur de Beauvoir.

A process for lead crystal was discovered by George Ravenscroft of London in 1676. The same invention was made in France, almost simultaneously by the King's Company, which later became St. Gobain, still a prominent firm. The fashion for lead crystal glass chandeliers was quick to catch on and was again even compared favorably to rock crystal - especially when the English began fabricating chandeliers themselves!

The late seventeenth-century French innovations in ceiling fixtures with myriad glass drops further intensified the light effect. Beads of rock crystal mounted on wire armatures continued to be hung on chandeliers in splendid French rooms, but remained prohibitively expensive. (Fig. 45) At the beginning of the eighteenth century, metal structures appeared in France for ceiling fixtures, covered, and also with hanging Venetian glass crystal drops and pendants. (In inventories they were described as in the "modern style.") Venice also exported to France, although trade had its risks, since the French preferred only their own products to be sold within their country.