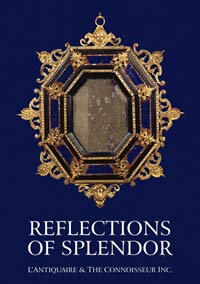 Exhibition Catalog
Mirrors During the Reinassance Period
Part 17
By Helen Costantino Fioratti
Incising was also seen on the elaborate crowns of the trumó (ribalta con alzata) or drop-front desk with upper section over drawers, and on these and other cabinet doors. The designs favored, besides volutes, flowers, and garlands, were mythological, allegorical or, after the mid-eighteenth century, gênre scenes inserted within moldings. Mirrors were also inserted inside boxes. Indeed anywhere where more light was desirable became a place for mirrors.

Incising could also be used on glass frames containing paintings executed on the mirror itself. This, while precluding their use for reflection, made the mirrors highly ornamental adding sparkle and illuminated the interior. Favored subjects were figures, classical gods or Arcadian scenes.

The desire for more light contributed greatly to the Venetian fashion for mirrors, both large and small. Mirrors alone or those which held candle-arms at their base were much copied elsewhere. Such mirrors were shield shaped, scrolled, or of a vaguely undulating oval shape during the Rococo period, and, following the fashion, usually placed over small consoles or trespoli.

The girandole or applique in France were also often inset with mirrors. They were also called a 'placca' or 'ventola' in Italian. These continued to be popular in the Neoclassical period, but with straight sides. Again, these small mirrors were used to brighten the room rather than offer reflection. The light was enhanced by candle arms projecting from the bottom of the frame. These sconces came into style in the 1670's in both France and Italy. Mirrored sconces remained very fashionable in all of Europe by the mid eighteenth century and on. Everything, from wall-hung looking glasses to vast mirrored wall treatments, were made with the mirror segments fixed to wood. When the wood was entirely covered, the mirrored elements were attached as before with screws or metal hooks centered with mirrored rosettes, ovals, and leaves, or flowers either clear or colored.

As mentioned before, many Venetian wall-hung mirrors of this type had elaborate crowns. Some crowns were of openwork design composed of more mirrored scrolls and leaf designs for example, which furthered the glittering effect and yet did not necessitate large single sheets of mirror, still technically impossible to produce. These mirrors had frames just heavy enough to carry the glass's weight and often combined the glass with gilt wood moldings along the perimeters and between the glass elements, one inside the other. The double framing effectively enlarged the mirror's brilliant effect but employed only small additional glass segments. Venetian mirrors of this type were often based on French Louis XIV period designs, providing, however, more fantasy and imagination than almost any other decorative furniture seen before or since.