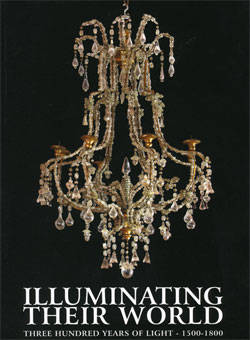 Exhibition Catalog
Chandeliers in the Seventeenth
and Eighteenth Centuries
Part 12
By Helen Costantino Fioratti
The Countess wrote that she herself "would have been delighted to accommodate the latter suggestion." When she left Turin after ten months, it was still being discussed! "All of society," she wrote, "continued to be agitated by their passionate opinions on the subject of the chandelier. They anxiously awaited the arrival of the Queen to make a decision." Summing up, the Countess de Boigne wrote that "the theater was very beautiful, that the chandelier was hung provisionally, and that it lit the space very well." She added that lovers of the "Ancien Régime" said that it was "keeping the brilliance of the crown" (they called it the "crown" of the loge of the King)! Before the famous chandelier was installed, the hall had only been lit by the candles placed in the girandoles emanating from the royal box.

Other references from the time abound. Madame Élisabeth, the sister of Louis XVI, described the seven "croisées" (gilt wood chandeliers) hanging in the billiard room at her house (formerly belonging to the Guéménées) that illuminated the room and looked out onto the "cour d'honneur."

A new source of illumination was invented in 1784 by the Swiss scientist Aimé Argand, whereby a flame was powered by oil made from rape seed, and also (called colza oil ). The light was extremely bright and the flame burned cleanly. Thomas Jefferson introduced this lighting innovation to the United States. The Emperor Napoleon commissioned a massive thirty light, cut crystal and gilt bronze chandelier for the Palazzo del Quirinale in Rome, which unfortunately was not completed before his abdication (the invoice is in the Paris archives). The chandelier sold at auction in London for £669,600 in March 2007. Other examples of similar chandeliers survive; they were originally listed at the cost of 10,000 francs each at the time of their manufacture.

A Frenchman named Clement founded a manufactory in Paris in the 1760s called "La petite Pologne" and specializing in painted "tôle," with a specialty of lighting fixtures. He experienced financial troubles which caused him to "remettre son magasin chez le Sieur Framery, marchand bijoutier, Rue St Honoré." In 1791 or 1792, another tôle-maker, Blaise-Louis De Harme (a son of a topographer to Louis XVI) also opened a workshop on the Rue de la Madeleine, Paris. These included lighting fixtures for interior and architectural use that were painted, gilded, and varnished. Doing research, it was said, during the Revolution, in 1798 De Harme participated in the first "Exposition publique des products de l'industrie francaise" on the Champs de Mars.

The following year, his brochure stated that he produced varnished and gilded "tôle" items, "including the kind manufactured in England" His shop at 15 rue Martel, which he opened in late 1802, became famous as a manufactory of varnished and painted metal lighting fixtures and other "tôle" items.