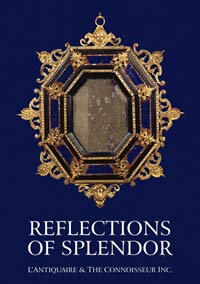 Exhibition Catalog
Mirrors During the Reinassance Period
Part 5
By Helen Costantino Fioratti
Rabelais (b. 1494 – d. 1553) wrote that some curved mirrors were made to annoy people and make them lose their countenance at church, as some gave a divided face and nose. Especially made mirrors to distort were described by J.B. Porta in 1589. In 1591, permits to manufacture large, one meter square, mirrors were issued in Venice to Benedetto Usanze and Bernardino Bigaglia, heralding the beginning of an industry which has been synonymous with Venice and Murano ever since. At this juncture, Venetian looking glasses were still the object of greatest prestige in the major European courts. As techniques improved, mirrors began to be really large enough to permit a size suitable to be hung on the wall for decorative effect as well as those placed on a piece of furniture.

Mirrors continued to be highly prized, and were still limited to aristocrats and the very wealthy, whose mirrors could have silver and gold frames encrusted with gems. Kings and Queens considered mirrors suitable gifts for other heads of state. A small hand mirror designed by Etienne Delaune in the Fontainebleu school tradition was (published in Paris in 1581) worn by ladies on a chain around the neck. A Venetian mirror framed in gold and set with diamonds was one of the gifts that Sully (1560-1641), the finance minister of Henri IV of France, described as offered to the Queen of England by the French Ambassador in 1603. Another gift, this time presented by the Venetian Republic to Maria de'Medici (1573–1642), at Fontainebleau at the birth of Louis XIII, was a mirror, considered so precious that it was then mounted into her wall paneling. The fashion of mounting mirrors into paneling became the norm in the late seventeenth century after the new Chambre du Roi at Versailles was decorated. The 'cabinet de miriors' in Louis XIV's private apartment at Versailles was begun in 1664 and completed the next year. The walls were faced with mirror glass up to the frieze.

Another instance of the accrued appreciation for mirrors is documented at about this time in Venice. Nuns there were primarily from noble families and so were accustomed to dressing up, yet the use of mirrors was denied to them in the convents. The thrill of dressing well was intensified when they gained access to a mirror or a piece of glass which allowed them the forbidden luxury of seeing their own images. Engraving was used on mirrors specifically made to enhance light, but not on those to see one's reflection. Engraved mirrors were usually placed behind candles to double the light and often had attached candle arms. The size and shape of dressing table or "toilette" mirrors were influenced by the size and shape of wigs and hairdresses.

By the mid-sixteenth century, glass mirrors became popular throughout Europe, but the Venetians continued with their virtual monopoly until the late seventeenth century. Mirror workers were prohibited from leaving Venice, lest the secrets would be lost, but the techniques became diffused nevertheless.