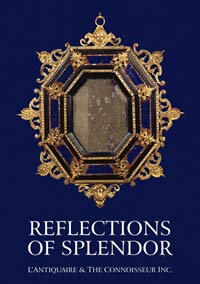 Exhibition Catalog
Mirrors During the Reinassance Period
Part 18
By Helen Costantino Fioratti
If the mirror was visibly all glass, and had candle-arms, they were also glass, but usually the arms were of gilt or painted metal, or, in the case of foliate candle-arms, left in plain iron or painted in natural colors. Many of the mirrors with candle-arms had centrally placed incised figures, with mythological or gallant scenes framed with floral devices or scrolls.

The Nove di Bassano ceramic factory was also responsible for decorative, light-enhancing mirrors with colorful ceramic frames. All of Italy followed suit with similar mirrors. Mirrors, Lighting devices, chandeliers, and sconces continued as Venice's chief luxury exports. Venetian artisans who carved, gilded, or made lacquered mirror frames were called Marangoni di Soaza. By 1773, there were thirty-six workshops with ninety-four master carvers, one hundred and seventy four workers and forty-three assistants. Frames were made or designed by well-known artisans known for their work in other mediums, among whom were Jacopo Piazzetta, the father of the painter, and Antonio Corradini (1668-1752), Giovanni Marchiori (1696-1778) and Antonio Gaf.

While France was now producing large sized mirror plates, covering walls and using mirror in wall paneling, Venice stayed with her old methods for blown glass. This again allowed for ingenious designs of lacquered or carved gilt frame supports, enabling the creation of entire rooms decorated with mirrors. With the use of narrow moldings tracing shapely panels, alone or combined with stucco or wood paneling, mirrors became illusionistic, creating theatrical vistas at the end of a room or hall. The mirror called fondo di sala, continued to give an appearance of a loggia or window, as it enhanced the light.

The trumeau was the French term for the pier mirror over the mantelpiece, which was set into the paneling with either a painting or a carved device above the mirror plate. In bourgeois homes, they were perhaps the only paneling in the room. The trumeau was very popular in the French provinces throughout the eighteenth century and continuing well into the nineteenth century (especially since provincial pieces repeated the same styles for many decades).