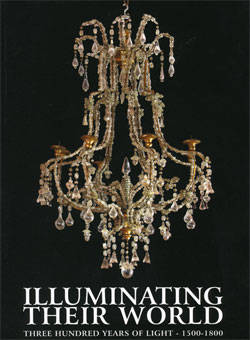 Exhibition Catalog Cover
Chandeliers in the Seventeenth
and Eighteenth Centuries
By Helen Costantino Fioratti
In the seventeenth century more chandeliers were made in bronze and gilt wood typical of the Baroque style, however, the adoption of rock crystal to aid in reflecting the light became the mode most desired by the richest patrons. (Fig. 25) To meet the demand, a great number of chandeliers were made with crystal pendants. In Venice and Bohemia, they were soon to be made in mouth-blown glass with wrought iron arms.

In 1612 a treatise on the art of glass making by Antonio Neri, was published, although the secrets had long been "out." Still, the examples presented there were a long way from the chandeliers produced in the eighteenth century. Monsieur Loret, the Count de Lyonne (who received the french court in Bern on May 24, 1659), wrote: "There is another grove ornamented with verdant foliage and with two chandeliers hanging in the air, where one sees them sparkle. With torches, in great number which despite the night so somber, also it is true that I must tell you it was bright as though it were mid-day." The "dazzling by light" was very impressive also due to the tremendous cost of the candles.

One great maecenas, Cardinal Jules Mazarin (1602-1661), the chief minister of France from 1643, was said to have a fine rock crystal chandelier hanging on a real silver chain. Another important governmental figure, Nicolas Fouquet, at his Cháteau of Vaux-le-Vicomte, had in 1662 no fewer than nine crystal chandeliers, as well as five pieces of mirror as back plates for his sconces which were better able to reflect the light. (Fig. 26) Everything Fouquet had made was the ultimate in luxury, which eventually caused his downfall!

Six chandeliers were made in bronze by the metal designer and artisan Pierre Germain (died 1684) for the chapel at the royal palace of Fontainebleau. He also produced a superb silver example for the Dauphin at Versailles, which had movable arms emanating from eight human heads. Huguenot silversmiths also created chandeliers. Remarkable ones in metal, from circa 1690, were made by George Gatharne in England. These and others by diverse Huguenot craftsmen can be seen at Hampton Court Palace and in Williamsburg, Virginia. (Fig. 27)

For the banquet given for King Charles II of England (c. 1630-1685) at the Mauritshuis at The Hague in 1660 (Fig. 28)" lustres or crystal candlesticks [chandeliers] were suspended from the ceiling, which, with many candlesticks, arms of silver, and a great number of torches, enlightened all the corners much better than the sun could have done at midday. The arms of silver are shaped like fore-arms protruding from mask-like bosses; they may be seen flanking the windows, but are shown without candles."