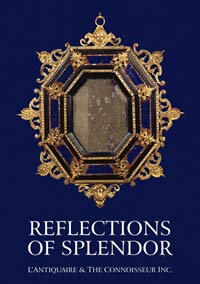 Exhibition Catalog
Mirrors During the Reinassance Period
By Helen Costantino Fioratti
The end of the middle ages is considered to be around 1480 when the adoption of "Al Antica" ornament became diffused. The technological introduction of printing also spread the Renaissance motifs from country to country, including styles of mirrors. The innovations started with the hierarchy and filtered downwards. The mirror was in fact a constant subject in painting, especially when the images were 'Vanitas' or Allegories of Prudence, such as a fresco by Giotto (1267-1337) in Padua, where one sees a person gazing at a convex mirror. The same subject showing a hand mirror also appears in a drawing attributed to Michelangelo (1475 – 1564), or his school, at the Pinacoteca Ambrosiana in Milan. A rendition of the same Allegory by Giovanni Bellini (1420-1507) depicts a nude woman holding a convex mirror (Galleria del Accademia, Venice). A sketch by Leonardo (1452 -1510) at Christ Church, Oxford also features a mirror. Another, by Raphael (1483-1520) is in the Stanza della Segnatura in the Vatican. Years later, Diego Velásquez (1599-1660) painted a splendid Venus lying down with a cupid holding a rectangular mirror before her (National Gallery, London).

The availability of mirrors also gave artists the means to paint their self portraits. Vasari assumed that Simone Martini (died 1344) had painted himself with the aid of two mirrors in order to depict his head in profile. Parmigianino (1507- 1540), in his famous self-portrait, painted his reflection as seen in a convex mirror. The same device appears in the foreground of a painting by Petrus Christus, (active 1444 – died 1475/76) of a goldsmith in his shop, possibly Saint Eligius.

The convex mirror appears as a symbol of purity in the Arnolfini wedding painting by Jan Van Eyck (active from 1422, died 1441), which was painted not so long after most such mirrors were made in polished metal. The convex mirror then became an even more frequently used symbol in Vanitas paintings where it was personified by a nude woman holding the (convex) mirror. The image reflected the attributes of Luxuria and Superbia, and on the other hand, the opposite attributes of Temperance and Prudentia. This was not inconsistent as mirror also reversed positions and therefore could reverse attributes.

In the Boboli Gardens, Florence, there is a statue of Narcissus by Benvenuto Cellini (1500-1571) another, as mentioned before, popular subject based on seeing one's reflection. A painting by Caravaggio (1573-1610) in the Galleria Nazionale in Rome is of the same subject. The "toilette" of Venus paintings, such as that of Tiziano Vecellio (Titian) (c. 1477-1576), shows Venus holding a mirror flanked by cupids, Peter Paul Rubens also painted a version. Memling's rendition features a naked woman wearing sandals and holding a round mirror without a handle. She has a sweet dog to her side and another behind her. Even Edouard Manet painted Nana Before a Looking Glass with a "suitor" looking on. Many famous artists, including Picasso, made drawings or paintings with mirrors.