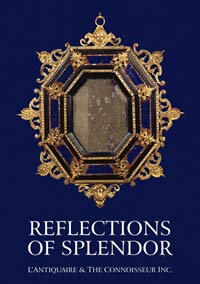 Exhibition Catalog
Mirrors During the Reinassance Period
Part 2
By Helen Costantino Fioratti
The early Italian Renaissance still saw the manufacture of luxurious steel mirrors, framed in silver or gold and set with precious stones, with or without handles. These mirrors were hand-held, as were those of mirror glass which could only be made in small sizes and lacked superior reflective qualities. An example with a carved ivory case depicting a jousting scene is in the Musée National du Moyen Age in Paris.

Many later Renaissance glass mirrors, while round, were contained within a square frame. Some round, or rectangular ones, were mounted on a pedestal. Mirror frames often had a pediment top, and columns flanking the reflective glass. Mirrors as well as tabernacle frames, like contemporary cabinets, resembled the façades of elegant palaces.

Looking glasses, framed by columns, pediments, architraves and bases, all followed the classical architectural style of the period. These became increasingly popular as the Renaissance progressed; the small, yet elaborately decorated mirror frames were made of either expensive solid wood, such as walnut, or were gilded, painted, veneered, inlaid or of ceramic. The inability to produce mirror glass of large size also constrained the designs and dictated the forms of the somewhat larger examples, in which small glass centers were surrounded either by more pieces of mirror glass or by wider elaborate frames, to produce a larger effect.

Many glass mirrors were protected by a decorated piece of wood that slid horizontally to reveal the reflecting glass beneath. The small, still usually round, polished metal mirrors of the period often could have little silk curtains hung over them. The central portion could also reverse from a mirror to a painting.

In Florence, square mirrors developed which could be protected by small, flanking doors. Whatever the mirror's shape, it would be elaborately framed, decorated with carving or pastiglia. Many mirrors resembled small hanging cabinets, or brackets. These were often masterpieces of carving and proportion. An early mirror, undoubtedly from Italy, listed in the 1426 inventory of the Château des Baux, in France, was described as having a black horn frame further embellished by three ivory figures.

Other French inventories such as René d'Anjou's of 1448 mentions "crystal" glass. King Henri II gave a patent to Sieur Theseo Mutio, from Bologna, with the "grace and privilege for 10 years to make glass in the Venetian manner" in his attempt to introduce glass blowing to France. As we will see, this attempt would be followed by many more.

Besides Venice other areas in Italy were also involved in glass and mirror work. So long as Genoa remained under Spanish domination, no temptation was sufficient to lure artisans from nearby Altara to provide the Genoese with glass. The council of the Altarese descendants of Jewish glassmakers from the Holy Land specifically prohibited all their glassmakers from working for Spanish-dominated Genoa.

To avoid using the Genoese port, the port of Savona (14 kilometers fr0m Genoa) served the Altarese with the soda necessary for glassmaking, which was shipped to them from Spain. For a hundred years both Jews and glassmaking had been absent in Genoa. After receiving a statute that "tolerated them" and finally gave them favorable terms to resettle and establish glass production in the Genoese Republic, they, and the art of glassmaking, returned to Genoa in 1659. Until then mirrors in Genoa were imported mainly from Venice.