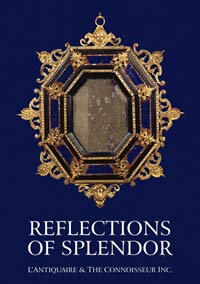 Exhibition Catalog
Mirrors During the Reinassance Period
Part 7
By Helen Costantino Fioratti
The fact that France purchased so many mirrors from Venice led to an early example of industrial espionage. The French ambassador to the Venetian Republic was enlisted to offer huge incentives to entice master glass artisans to leave Venice for France (strictly forbidden in Venice). In fact, even the families of a fleeing glass expert could be held hostage.

The Minister of Finance to Louis XIV, J.B. Colbert (1639- 1683), was so intent to maximize the Sun King's glory that he sent agents to Venice to recruit glass experts for his project to create the Manufacture Royales des Glaces de France. His initial efforts incurred great expenditure, intrigue and offers of huge enticements of money and rank. In 1664, the Bishop of Béziers, the French ambassador to Venice (born Pierre de Bonzi, from a Florentine family), was in charge of enlisting Murano workers for the project.

For their part the Venetians had threatened to throw any workers defecting to a foreign country into the sea. There was already a measure that "any worker or artist who transported to a foreign country and doesn't obey the order to return - all his closest relatives will be imprisoned and if he refuses to return, an emissary would be sent to the foreign country to kill him, and only after his death would his family be released." Nevertheless, three expert workers actually were safely escorted to Paris.

After the discovery in Venice that the glass makers were in France, they were promised suspended sentences and a safe return, so valued was their expertise! These artisans nevertheless did not return, and were never found. Another daring defection was forestalled in Lyon; the artisans, after being questioned in prison, were repatriated to Venice. Enough Venetian glass experts were eventually lured to France enabling Colbert to assemble a twenty-man team to train his French workers. The first fine mirror that they produced was shown to the minister on February 22, 1666.

Meanwhile, constant pressure was put on the émigrés-threats, promises, secret agents, and intimidation, including actions from the Venetian ambassador to France (who later became a Doge in Venice). The result was that several, (but not the most important), artisans succumbed to the threats and returned to Venice.

For the artisans that successfully settled in France, Colbert decided that their families should also be brought to France. However, his orders were intercepted. The Venetian police searched the women's homes (who feigned illness and resignation) "waiting for their husbands to return". Yet when the police returned a few days later, the spouses had all been whisked away, out-of-reach, to France. Colbert's initial project, however, was a financial disaster. The Venetian artisans denied the French access to their workplace, lest they learn too much. There was in-fighting amongst the workers and accidents at work, (one crucial member injured a leg, and two died due to natural causes.)

Some of the ex-Murano workers feared for their lives and, succumbing to the threats, headed home. However, the treatment they received from their fellow Murano artisans made them long to return to France. Once was enough for Colbert, however, and his project was abandoned. Experiments followed with trial and error, however with some real successes achieved in the French provinces. Finally, in 1687 the process for making mirrors of plate glass was invented in France by Bernard Perrot (actually named Bernard Perotti or Perotto), who was a naturalized descendant of a famous family of Altarese glass workers, although this origin is not usually mentioned.